My Fall decorating has spread from the mantel to the front door.  I have never decorated the front door for anything other than Christmas, so I had to start from scratch on my design.  I started by searching Pinterest for inspiration but didn't find anything I wanted to use.
So I decided to go with an idea I originally thought about using for above the mantel.  The letter "S" for our last name covered in moss, mums, and twigs.

I liked this idea because it is different than the typical fall wreath but personalized because of the letter "S".  I wanted to use vibrant colors… sometimes I feel our Fall decorations are a little more subdued, but nature really becomes vibrant in color during the Fall.  The orange and yellow pop against the green background.  I'll go in to how I made it in another post.  I would love to now, but this week has just been crazy.  Hopefully, I'll have some time this weekend to catch back up.  But I was happy to get all the supplies for under 20 bucks because of a great BOGO sale at Hobby Lobby.  Since I used artificial flowers, this is an arrangement that will be good from year to year.
I think it looks perfect on our door.  What do you think?  The "S" doesn't seem to be too tall or wide.  Some people like an overstatement though.  So whatever works for you.
Here's a shot from further out so you can see it on the entire door.  (You can also catch a glimpse of me in the reflection.  At least I wore a yellow shirt to match!)
It adds a little Fall touch to the front of our house… and hopefully makes it look inviting too.  I don't want our door screaming, "Back off!… Summer's over and now I'm depressed."
Like the mantel this Fall decor will also last thru November.  Isn't it nice to get a couple of months out of your decorations?
I am linking up over at Rhoda's Fall link party!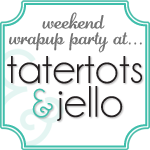 For more Color Transformed Family follow me on:
Facebook, Pinterest, Twitter, Instagram, Hometalk,
or RSS.
Post Footer automatically generated by Add Post Footer Plugin for wordpress.