Originally, I planned to give an update on one of the projects I have been working on for the nursery.  After attending worship at The Church at Brook Hills Sunday night, I really felt that sharing about a craft project was a little silly in comparison to actual urgent needs in this world.
The Church at Brook Hills has been studying 1 Timothy for several months now.  The past two weeks have been on 1 Timothy 6 focusing on the gospel and materialism.  I have included a few verses below.
1 Timothy 6 (English Standard Version)
6 Now there is great gain in godliness with contentment,7 for we brought nothing into the world, andt we cannot take anything out of the world.8 But if we have food and clothing, with these we will be content.9 But those who desire to be rich fall into temptation, into a snare, into many senseless and harmful desires that plunge people into ruin and destruction.10 For the love of money is a root of all kinds of evils. It is through this craving that some have wandered away from the faith and pierced themselves with many pangs.
17 As for the rich in this present age, charge them not to be haughty, nor to set their hopes on the uncertainty of riches, but on God, who richly provides us with everything to enjoy.18 They are to do good, to be rich in good works, to be generous and ready to share,19 thus storing up treasure for themselves as a good foundation for the future, so that they may take hold of that which is truly life.
Did you know that if you make at least $10,066 a year you are part of the top 16% of the richest people in the world.  The average annual American Christian household income is $42,409.  This is in the top 2.5% of the richest people in the world.  That's right we are included in the top 2.5% with people like Donald Trump, Bill Gates, and Oprah Winfrey!  I don't know about you, but that blew me away the first time I read that.  More than likely, if you are able to read this blog post, you are easily in the top 16% of the richest people in the world.
 On the opposite end of the spectrum, there are over 1 billion people living (and dying) in desperate poverty (on less that $1 a day).  If you are anything like me, you probably hardly ever think about this.  Why?  Because we don't see this happening everyday.  We would rather focus on our own desires.  And maybe because it's just easier if we don't think about it.
But God demands otherwise.  Verse 18 above states that the rich are "to do good, to be rich in good works, to be generous and ready to share."
We are blessed with wealth more than any other country in the world and have the opportunity to obey God and give generously.  We are also to find contentment in God instead of "stuff" here on Earth.  While I do find this challenging (especially in our heavily marketed, affluent culture), think how much easier this is.  We don't have to save up money to be with God.  He never runs out or depreciates either!
Pictured above is one girl who has obeyed God, given generously, and now lives richly with contentment in God.  Please click the image below to read more about Katie (22) and her life serving in Uganda as mother to 13 girls.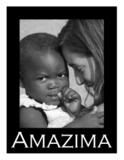 Note:  In case you are wondering, Michael Luke and I do not at this time sense God calling us to Uganda or to parent 13 girls (one will be plenty for now).  However, we are evaluating our lifestyle, trying to free up more money, so that we can give generously for the spread of the gospel.
Also, more than likely I will post about my seemingly meaningless craft project later this week.  Our home improvement projects are done within a predetermined budget that also allows room for giving for the sake of the gospel.

For more Color Transformed Family follow me on:
Facebook, Pinterest, Twitter, Instagram, Hometalk,
or RSS.
Post Footer automatically generated by Add Post Footer Plugin for wordpress.