We are trying to get in the Christmas spirit here at our house.  Yesterday, Michael Luke brought down all the Christmas decorations from the attic.  Normally, I completely transform the entire downstairs into a winter wonderland, but since we have a newborn to take care of, I think I am going to have to scale it down… it's hard to decorate and do chores between feedings.
So far, I have only had time to set the table for Christmas.
I used garland for the centerpiece of the table.  The garland is really thin and has seen better days but works well bunched together on the table.  Since I hung the sparkly red Christmas ornament from the chandelier, I knew the centerpiece for the table needed to be linear.  I used small silver and gold glass ornaments but felt like it still needed a pop of color, so I added some of our red Christmas ornaments.
I love that our green chargers from our everyday dishes work perfectly with our Christmas dishes as well.  The shape of the charger reminds me of poinsettia leaves.
The napkins in the glasses give a little height to the table.  These are actually paper napkins.  I have some beautiful red cloth ones, but there were only four.  So I used white instead.  I think they work just fine.
Besides the pack-n-play in the background, the dining area looks ready for Christmas.
Here is a shot looking from the living room into the dining area.
You may have noticed our lack of chairs.  To save space and make the room look larger, we use two benches for the main seating.  We have two chairs that can be used at the ends of the table if needed.  It always amazes me that we can actually seat up to eight people.
With our table set and decorated, I am ready to decorate the rest of the house.  What about your house… Is it decorated yet?  Are you going all out or scaled back this year?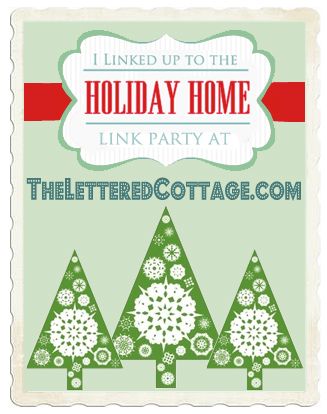 For more Color Transformed Family follow me on:
Facebook, Pinterest, Twitter, Instagram, Hometalk,
or RSS.
Post Footer automatically generated by Add Post Footer Plugin for wordpress.