I had the wonderful opportunity to share this cool backyard project over at Applestone Drive earlier this week. I thought I would share it here as well just in case you missed it.
If you are like me, you might be starting to get out in the yard and do a little work. Not that I really do a whole lot because I wasn't blessed with a green thumb and our flower budget isn't all that big. But I still like to add a few pops of color where I can.
This is what our back yard deck has looked like in years past. It's not that bad, but definitely room for a little improvement. This year, I decided to start things off in the color department by spray painting some of our existing planters.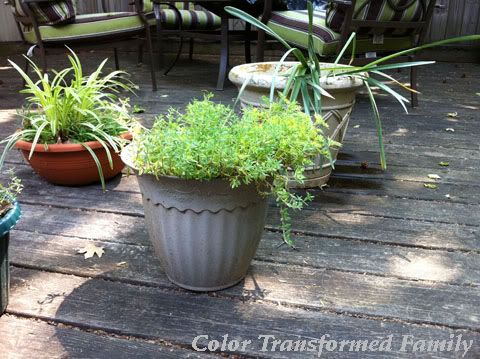 Most of them are plastic and fairly plain. They serve their purpose fine but really aren't all that attractive. I did a little research and found that some spray paints work on plastic.
After a trip to Lowe's, I decided to go with Valspar's spray paint which says on the can that it works on most plastics.
I chose orange and blue since I already had such pretty greens in my plants and patio cushions. Before painting, I lined all the pots up and sprayed them off with the water hose to get them good and clean. Then I used plastic shopping bags to protect the plants from the spray paint.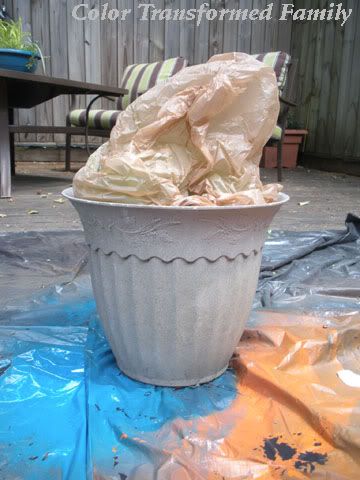 Next, I spread out garbage bags to protect my deck from turning orange and blue and applied the first light coat of paint. Spray paint works best if you apply in several thin and even coats.
So coat….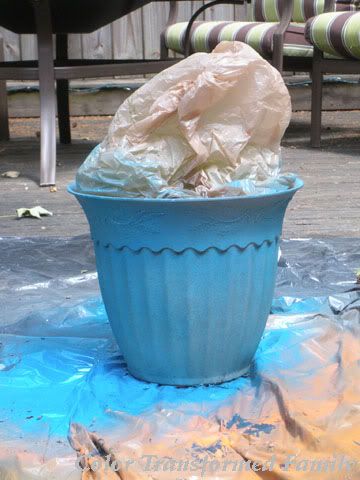 after coat… I sprayed until each planter was fully covered.
I just love the added touch of color the planters give the space now.
It makes me so happy to look out our living room windows and see this. Don't be afraid of using bold colors. Nature is full of them, and they all work well together. I am leaning towards painting the rest of my planters now! For under $10, I was able to update the look of our planters in our backyard.

For more Color Transformed Family follow me on
Facebook, Pinterest, Twitter or RSS.
Linking up at:
For more Color Transformed Family follow me on:
Facebook, Pinterest, Twitter, Instagram, Hometalk,
or RSS.
Post Footer automatically generated by Add Post Footer Plugin for wordpress.