Like most of our projects around here, our bathroom renovation has been a slow work in progress. So far we have replaced our towels with these extra large, comfy, aqua beauties, organized Noah's bathing supplies, and given new life through paint to our wall art and fish.
Update on the fish: Thanks to Trista's comment from Raising Baby on a Budget the fish now holds our toothbrushes, which works out great because I was able to remove the cup that always held them. Yay for one less item on our counter.
Taking our time is ok though because it allows for plenty of day dreaming and pinning before making a final decision. For instance, it has bothered us for a while that when you walk into our bathroom, one of the first things you see is all our junk stored in the cabinet above the toilet.
The cabinet is extremely functional, but someone wasn't wearing their "designer" hat when then they thought it would be a good idea to place clear glass inserts into the cabinet doors. Isn't the purpose of doors to hide the junk you don't want to look at?
So for the past few months, I have had several different ideas swimming around in my brain. The first one was just replace the cabinet. But that just didn't make sense. Why should we replace it when there was nothing wrong with this one… plus I don't think ML would have gone along with the idea. And that's one important thing to remember in the design process of your home. If you're married, make sure your husband agrees with what you are doing. Or if he's the type that doesn't care what it looks like, at least make sure y'all have agreed on a budget before you start renovating/crafting/cooking or whatever. Thankfully, ML likes to be involved in the design process. Maybe it's because he started out majoring in architecture in college. It didn't take but one semester to decided that that wasn't the profession for him though. I'm so thankful he loves the profession he chose: physical therapy.
Anyway, back to my ideas. The second one was one of those ideas that works great in your head, but you can never figure out the logistics to actually execute the idea. I thought I could tape/Mod Podge scrapbook paper to the insides of the door. I kept running into problems with that idea though because the glass is bigger than one sheet of scrapbook paper. Using some kind of printed design would have been a bad idea anyway because the glass has little ripples in it. Don't want to get things too pattern happy.
So all this brings me to my third and final idea… Painting the back side of the glass with acrylic paint!
I still had some left over paint from the cross that got updated to match our aqua towels.
After running the idea past ML, he was on board. His one concern though was will it be a turnoff to future buyers when we decide to sell. You know in case they aren't down with the whole aqua bathroom thing. Thankfully, the paint can be removed, and I let him know that probably wouldn't be a deal breaker in selling the house anyway. Plus at least it would help the bathroom look neater by hiding all our junk.
So Wednesday I started painting.
It only took a few minutes to apply each coat. Then I allowed at least fifteen minutes between each coat. The first coat provided pretty good coverage, but there were still some pockets of light coming through. So I went back with two more coats to ensure full coverage.
After the third coat, I had this beautiful look going on.
I love it. The aqua is very soft but matches our towels perfectly. And the best part is you can't see our junk anymore! The paint also highlights the texture in the glass. I decided to not mention painting it to ML and see how long it took him to notice.
Before
After
He noticed immediately when he walked in there. And he agreed that aqua was a good choice for the color. He said, "I thought the bathroom looked cleaner." To which I replied, "The only thing that's been cleaned in here is the glass." So hiding our junk made so much of a difference that our entire bathroom feels cleaner. That's worth painting for! Plus this little part of the renovation was free.
We hope to tackle a few more things we have in mind for the bathroom later this summer. For now I will just enjoy the fact that my husband thinks our bathroom is cleaner!
So what about you? How do you and your husband/family handle design related decisions? Is he actively involved in the decision making process? Do y'all set up budgets beforehand? Or if you are single, do you set a budget beforehand?
We have a home improvement budget that we use for all our projects. Typically, we take the money that we get back from our tax returns and reserve it for the home improvement budget. This works out great for us because we don't go too crazy spending money on our house but have the opportunity to save for some bigger projects while we knock some of the smaller ones out of the way.

For more Color Transformed Family follow me on
Facebook, Pinterest, Twitter or RSS.
Linking up at: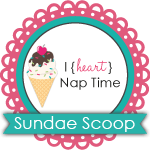 For more Color Transformed Family follow me on:
Facebook, Pinterest, Twitter, Instagram, Hometalk,
or RSS.
Post Footer automatically generated by Add Post Footer Plugin for wordpress.