Valentine's Day!
Warning!  If you are Noah's grandparents please stop reading unless you have checked your mail today.  Reading this will spoil your Valentine surprise.
Even though Noah is still too young to write her own personal Valentine's Day cards and just shy of being old enough to really get hands on to decorate them that didn't stop us this year from sending personalized cards to family.
This is idea is definitely not my own.  I got the idea from a few websites I found but I thought it was too cute not to share with you.  First, I bought a pack of Valentine's cards (they're Hallmark) with a sweet little message.
Next, with the help of Michael Luke we painted Noah's hands in washable finger paint and made upside down hand prints on the inside left of the card.
Keeping with the color scheme on the front of the card we used red and purple paint.  Plus, this helped the two hand prints stand out.   I have to add though that Noah wasn't too crazy about getting her hands covered in wet paint.  In fact there might have been a little bit of crying going on.  So for anyone who gets one, just know that tears went into making this card for you.
If this was done with an older child the hand prints themselves would look like a heart but because Noah really had no clue what we were doing hers needed a little help.  I used a Sharpie fine point pen to draw an outline of a heart. Next I wrote, "Even ten little fingers can't count the ways I love you with all my heart."
The next part was Noah's favorite!  I gave her a pen and let her scribble on the right hand side of the card… as if she was signing her name.  She loved this.  Coloring scribbling is her favorite.  She got down flat on the floor and lay her face down on the card and got to work.  For clarity sake I wrote in parenthesis "Love, Noah".  It really turned out to be a cute card and I hope her grandparents and other family members enjoy it!
Happy Valentine's Day!  Did you help your little one with any cute cards?  Or maybe you and your husband create your own personalized cards to give to each other?
P.S. Check out what we did for Valentine's Day Fun last year!  My how time flies.

For more Color Transformed Family follow me on:
Facebook, Pinterest, Twitter, Instagram, or RSS.
Linking up at:
Serenity Now, Imparting Grace, Bower Power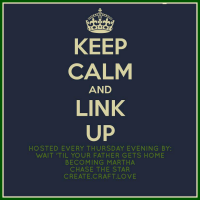 For more Color Transformed Family follow me on:
Facebook, Pinterest, Twitter, Instagram, Hometalk,
or RSS.
Post Footer automatically generated by Add Post Footer Plugin for wordpress.